Senior Laboratory Technician
Thermo Fisher Scientific
Middletown, VA
About the Job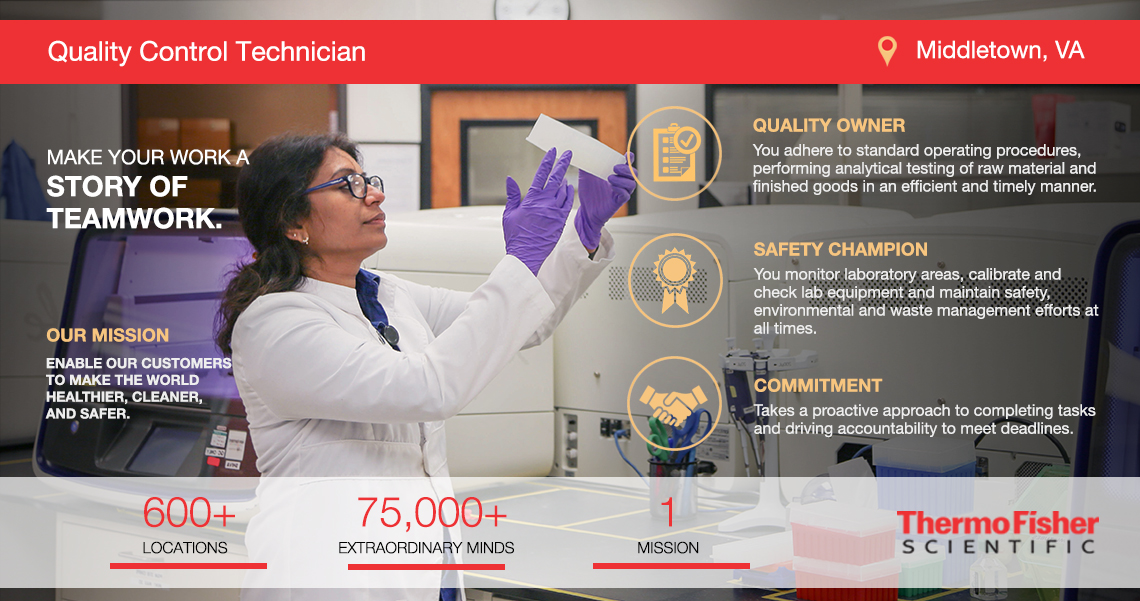 Thermo Fisher Scientific Inc. is the world leader in serving science, with annual revenue exceeding $25 billion. Our Mission is to enable our customers to make the world healthier, cleaner and safer. Whether our customers are accelerating life sciences research, solving complex analytical challenges, improving patient diagnostics and therapies or increasing productivity in their laboratories, we are here to support them. Our global team of more than 75,000 colleagues delivers an unrivaled combination of innovative technologies, purchasing convenience and pharmaceutical services through our industry-leading brands, including Thermo Scientific, Applied Biosystems, Invitrogen, Fisher Scientific, Unity Lab Services and Patheon. For more information, please visit
www.thermofisher.com
.
How will you make an impact?

The Senior Laboratory Technician performs laboratory analysis on products and materials.

What will you do?
Must evaluate data and prepare technical summaries and supporting reports when necessary.
Product release
Assessing stability
Facilitating complaint investigations
Effecting raw material release
Facilitating value assignments
Supporting Advanced Manufacturing and other Technical Service groups.
Prepares samples for testing and test and release products in accordance with written procedures.
Schedules testing to meet departmental and plant commitments.
Troubleshoots test procedures and/or instruments when problems arise, determines appropriate course of action.
Evaluates analytical results and determines conformance to specification; identifies deviations and trends, and out of specification events.
Maintains instruments/equipment in accordance with manufacturers' labeling and in-house audit and calibrations procedures.
Prepares data summaries and/or reports for technical input; writes and reviews departmental procedures.
Maintains all required records/logs in accordance with procedures and GMP; maintains working laboratory inventory.
Trains laboratory personnel on lab procedures and operations of instruments/equipment.
Other laboratory functions as deemed necessary to support the business needs of the company.
How will you get there?
BS or BA degree in Biology, Chemistry, Medical Technology or related field with 3 years of laboratory experience. Required area of experience in Analytical Chemistry, Immunoassay, Hematology, Coagulation, Microbiology or Clinical Chemistry. Experience may be substituted for degree in relevant field.
Physical Requirements:
Normal laboratory environment. Handles blood products and other biological and chemical hazards.
Position may require frequent communication and walking to other areas in which designated PPE will be required.
Position will require sitting and standing.
Additional PPE will be required when working with potentially infectious material or chemical hazards.
Employee may occasionally lift and/or move up to 45 pounds.
Non-Negotiable Hiring Criteria:
Knowledge of clinical laboratory instrumentation with strong troubleshooting capabilities.
Must be proficient in analytical testing techniques and possess strong troubleshooting capabilities.
Ability to organize data for presentation and prepare reports when required.
Ability to lift items up to 45 lbs.
Knowledge of GMP and ISO requirements
Must be knowledgeable of network and Microsoft Office computer applications, i.e. Word and Excel
Must be well organized and able to handle multiple tasks with multiple priorities.
Must be flexible and able to work overtime or staggered shifts other than normal working hours.
Must have excellent oral and written communication skills.
Ability to interact with all departments and occasional contact with outside sources.
This position is not approved for relocation benefits.