Genetic Analysis Instrument Sales Representative - New York City Area
Thermo Fisher Scientific
New York, NY
About the Job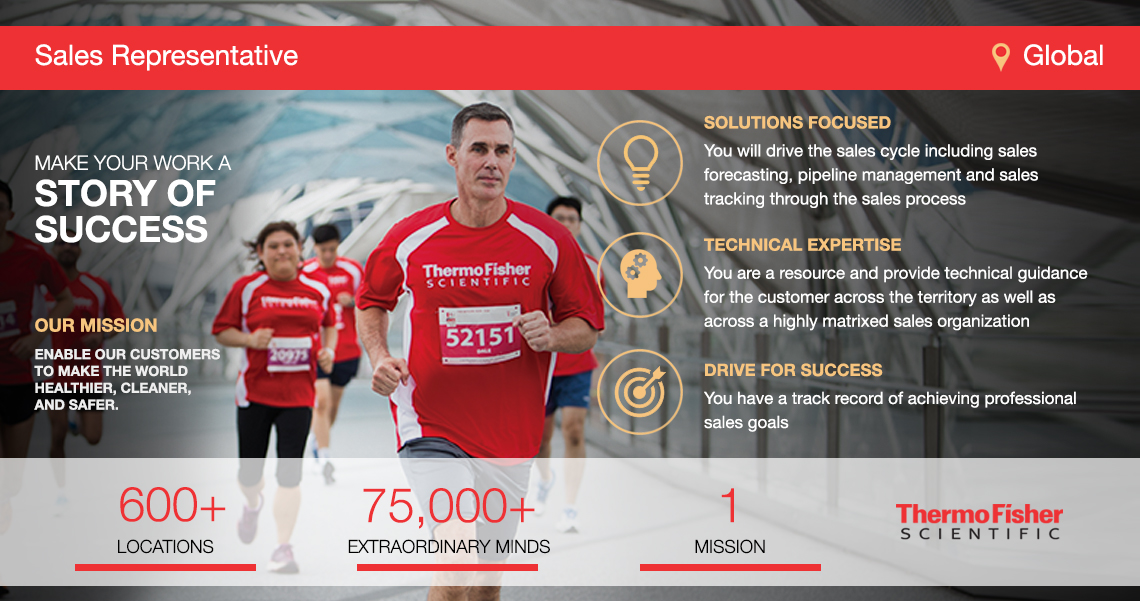 Now is an exciting time to join our Genetic Sciences business, our industry leading scale means unparalleled commercial reach, unique customer access and a global footprint. Our broad customer base, from research to clinical to commercial production means you can have a broad and meaningful impact. All while working in an environment where you will be supported, valued and rewarded for your performance. Join the team with unmatched depth of capabilities and help our customers solve some of the world's toughest challenges from the fight against COVID-19 to Zika to many others.
Genetic Analysis Instrument Sales Representative, New York City Area
How will you make an impact?
This position is a field sales based position responsible for achieving or exceeding the assigned territory sales plan. The Genetic Analysis Instrument Sales Representative will have a strong technical acumen in the areas of qPCR, sequencing (Sanger) and microarray. The Genetic Analysis Sales Representative will demonstrate technical credibility to effectively consult with customers to influence key decisions on technology and product choices. Strong sales and business acumen is also required to build successful account and territory plans and translate territory strategy into business results. Required skills for this position include; selling experience in Biotech Pharma and Clinical accounts, technical familiarity with product lines and markets, funnel management and forecasting.
Based remotely to cover NYC.What will you do?
Demonstrates technical ability to consult with customers on applications to maximize technology utilization and promote current advances in protocols, kits and capabilities. Understands and navigates competitive offerings to best position solutions.
Successfully drives reagent throughput and attachment rates, driving enhanced utilization of qPCR, sequencing and microarray technologies. Consult with customers to build relationships and focus on project needs and workflows to maximize consumable usage.
Commitment to rigorous territory planning, market knowledge, both accurate and timely forecasting for both run rate and big deal/project based instrument and consumable orders.
Team Work- Successful experience working in a team environment.

Develops and manages a business plan to meet or exceed business goals agreed upon with Thermo Fisher Scientific commercial management for the territory.

Effectively competes to win projects vs. competitors. Successfully position our solutions to address performance, workflow and budget.

Manage instrument install base and consumable utilization. Target customers not using our instruments and consumables. Identify the applications, reagents, assays and protocols available and convert the business.

Consistently and accurately manages sales process including sales forecasting, pipeline management, and sales tracking through the use of our customer relationship management program and other designated IT tools.
How will you get here?
Bachelor's Degree in Biology, Molecular Biology, Biochemistry or related field.
3+ years field sales experience in Life Sciences.
Experience selling Capital equipment and large account management experience preferred.
Extensive knowledge of qPCR, sequencing, and/or microarray is preferred.
At Thermo Fisher Scientific, each one of our 75,000 extraordinary minds has a unique story to tell. Join us and contribute to our singular mission—enabling our customers to make the world healthier, cleaner and safer.