Director, Operations Growth & Strategy
Thermo Fisher Scientific
Asheville, NC
About the Job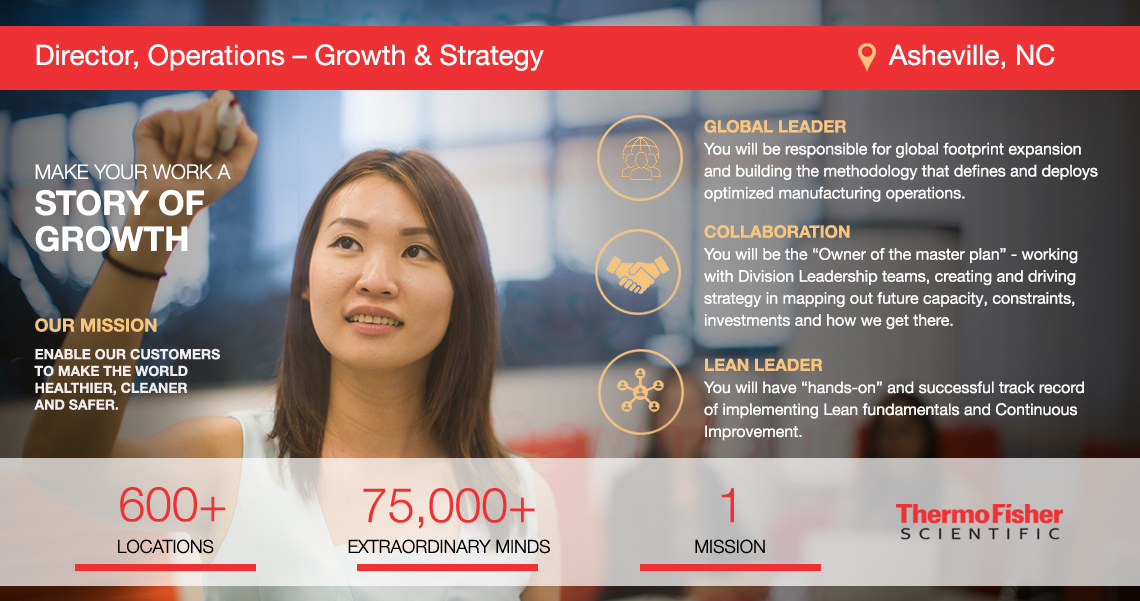 Thermo Fisher Scientific Inc. is the world leader in serving science, with annual revenue exceeding $25 billion. Our Mission is to enable our customers to make the world healthier, cleaner and safer. Whether our customers are accelerating life sciences research, solving complex analytical challenges, improving patient diagnostics and therapies or increasing productivity in their laboratories, we are here to support them. Our global team of more than 75,000 colleagues delivers an unrivaled combination of innovative technologies, purchasing convenience and pharmaceutical services through our industry-leading brands, including Thermo Scientific, Applied Biosystems, Invitrogen, Fisher Scientific, Unity Lab Services and Patheon. For more information, please visit www.thermofisher.com.
GROUP/DIVISION SUMMARY
The Director, Operations – Growth & Strategy is part of the Laboratory Products Division for Laboratory Equipment (LE) which brings together a winning combination of innovation and customer focus. LE serves a wide range of market segments including life science, blood and tissue banking, cell culture, immunotherapy, food science, bioprocessing clinical, biopharmaceutical, and more. This position will be based at our facility in Asheville, NC.
POSITION SUMMARY
The Director, Operation – Growth & Strategy leader is responsible for Lab Equipment (LE) Operations strategy for global footprint expansion and building the methodology that defines and deploys optimized manufacturing operations. This position will lead a global effort responsible for developing a footprint strategy using the PPI Business system, Lean Methodology, and capacity planning tools.
This role will act as the Lead Project Manager, working with Manufacturing, Operations, Product Management, Supply Chain, R&D, Finance and the Business Transformation Office to create and drive this strategy. This role is critical in analyzing and presenting the data for the entire system, from data collection, analysis, reduction scenarios, business recommendations, investment requirements, cost impacts and managing the plan through acceptance, implementation and final impact & results.
This role will also lead Complexity Reduction efforts through interactions with Design, Manufacturing & Product Management in order to simplify manufacturing, build robust processes, drive Lean Manufacturing, and productivity. A strong engagement with Engineering will be required to be successful in this space.
Key Responsibilities:
Partner with Product management, Manufacturing, Operations, R&D, commercial, engineering and finance to assess business needs and define strategy.
Responsible for building and executing a strategy for product rationalization and overall product offering simplification.
Create predictive models to understand manufacturing capacity (both hard & soft).
Develop technical competency matrices to identify and leverage sites core strengths
Create reviews and tracking routines to evaluate effectiveness of complexity improvements from customer's feedback through the data collection system.
Actively lead/manage SKU reduction projects across sites. Track and reporting of actions and savings.
Calculate operational hard and soft savings resulting from SKU rationalization and be able to attribute savings to specific manufacturing locations.
Define data collection requirements and, in conjunction with Supply Chain Analytics, institute effective data collection systems and user interfaces (i.e., SAP, BAAN, Sales Data Warehouse, COGNOS, Salesforce.com CRM).
Analyze data to identify product / manufacturing process complexity and/or improvements by recommending solutions that improve gross margin and satisfy customer requirements.
Qualifications:
Mechanical, Industrial, or Manufacturing engineer with multi-site responsibilities, a record of managing multiple projects across a global footprint.
At least 4 years of progressive Project Management, Manufacturing Engineering and Industrial Leadership with a focus on a diverse global manufacturing
Excellent project management skills and an excellent collaborator & influencer when it comes to project management, execution, and leading manufacturing initiatives.
Strong interpersonal skills and the ability to connect with and positively influence leadership and all levels of the organization.
A Lean Practitioner with 4+ years of experience and a 'hands-on' track record of implementing successful PPI/lean fundamentals including elements such as:
Strategy deployment, X Matrix development, value stream mapping, standard work, metric boards, stand-up meetings and project funnel coordination
Expertise in problem-solving utilizing a formal program/process
A holistic thinker who can look enterprise-wide to integrate and streamline systems for optimal benefit.
Able to drive strategic thinking and continuous improvement in both non-operational and operational areas, including connecting the cross-functional resources to remove waste along the extended value streams.
Passion for driving improvement and leading change in a complex, global environment
Product design and marketing familiarity, a plus as role will require interface with business unit experts.
Electro-mechanical comprehension sufficient to understand the operation of production equipment and facility systems and to engage in problem-solving discussions on products produced.
Financial literacy sufficient to understand Financial Statements, budgets, material/labor/overhead productivity
Ability to travel 50%, including international
At Thermo Fisher Scientific, each one of our 75,000 extraordinary minds have a unique story to tell. Join us and contribute to our singular mission—enabling our customers to make the world healthier, cleaner and safer.